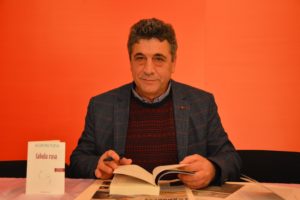 Agron Tufa u lind në 1 prill 1967. Pas studimeve për Gjuhë-Letërsi në Tiranë, ai mbaroi studimet në Institutin Gorkij të Moskës. Më pas vazhdoi studimet pasdiplomike për Filozofi arti dhe Përkthimi në Institutin e Kulturave Europiane, po në Moskë.
Përgjatë më shumë se 20 vjetëve krijimtari, ka botuar vëllime poezish: Aty te portat Skee, Rrethinat e Atlantidës, Avangardë engjëjsh, Fryma mbi ujëra, Gjurma në rrjedhë; romane: Dueli, Fabula rasa, Mërkuna e zezë, Tenxherja, Gurit të varrit ia rrëfej; ese: Janusi qindfytyrësh, Kuja e Mnemozinës, etj.; libër me miniatura: Thembra e akcilit, si dhe ka përkthyer poetët dhe shkrimtarët më të mirë rusë në shqip: Osip Mandelshtam, Josif Brodskij, Olga Sjedakova, Boris Pasternak, Andrej Pllatonov, Danjill Harms, Jurij Llotman, Vladimir Prop, Tolstoj, etj.
Ka marrë shumë çmime kombëtare dhe ndërkombëtare – Penda e Argjendtë për romanin më të mirë (Fabula rasa). Në 2009 fitoi Çmimin e Madh Letrar (kombëtar).
Poezitë e tij janë përkthyer në anglisht, frëngjisht, italisht, gjermanisht, spanjisht, rusisht, rumanisht, polonisht, sllovenisht, etj.
Dr. Agron Tufa aktualisht ligjëron lëndën e Letërsisë së Huaj të shek.XX në Fakultetin Filologjik të Tiranës; është njëkohësisht Drejtor Ekzekutiv i Institutit të Studimeve të Krimeve dhe Pasojave të Komunizmit në Tiranë, Shqipëri (www.iskk.gov.al).
* * *
Agron Tufa was born on April 1, 1967. After studying literature at University of Tirana, he finished his graduate studies at Gorky Institute, Moscow. He postgraduated in Arts Philosophy and Translation Theory at The Institute of European Cultures in Moscow.
During more than 20 years of creativity, he has published poetry collections, such as At Scaean Gates, Atlantis environments, Vanguard of Angels, Spirit upon waters, Footprints along the stream; novels, such as The duel, Fabula Rasa, Black Wednesday, The pot; essays: Janus of hundred faces, Mnemosyne's howl and has translated the most outstanding Russian and other poets and writers, such as Osip Mandelstam, Joseph Brodsky, Olga Sedakova, Boris Pasternak, Andrei Platonov, Danil Harms, Lotman, Vladimir Propp, Tolstoy, etc.
He is awarded with many national and international prizes, He was awarded The Silver Quill Award for his best novel Fabula Rasa. In 2009 he won The Albanian National Book Award. His poems are translated into English, French, German, Italian, Slovene, Spanish, Macedonian, Russian, Romanian, Polish, etc.
Agron Tufa, Ph.D., now lectures Translation Theory, Modern Literature of XX-th Century and East European Literatures at Tirana University.
Tufa is actually Executive Director of the Institute for the Studies of the Communist Crimes and Consequences, in Tirana, Albania (www.iskk.gov.al).